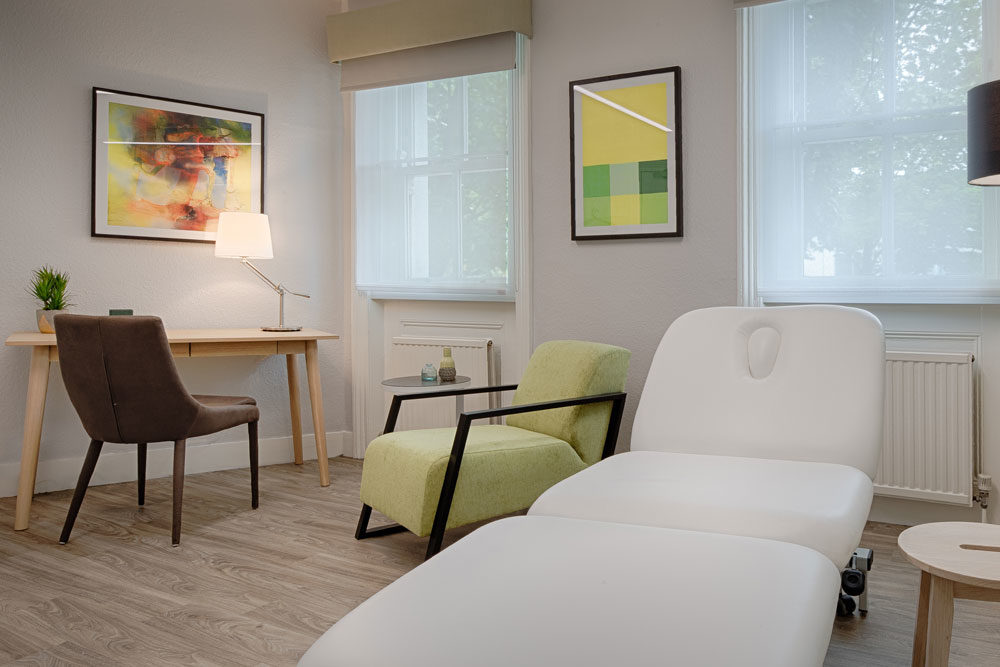 How To Design A Massage Room
17th Sep 2019
A whispering voice, beckoned Imogen with a chilling timbre, "Enter". Imogen, following the voice, peered cautiously through the doorway. The potent aroma of cheap incense in the air, subjugated Imogen's nostrils to an unsettling sensation. A dusty old bed clumsily sat in the centre of room, with a grotesquely patterned cloth draped over it. An incongruous assortment of towels were sprawled around on the floor, whilst flickering candles were precariously placed on an out-of-place nightstand, which stood in the corner. The space was claustrophobia inducing and the patterns on the walls caused Imogen to feel instantly nauseous upon inspection. Imogen was in… a nightmare!
A client having an uncomfortable first experience with your practice is every practitioner's worst nightmare. The lights, the design, the aesthetics – all of these contribute to your clients' overall experience, which is why the space in which you run your practice is just as important as the service you provide. So whether you are looking to design a massage therapy room or rent one, make sure it is in keeping with your client's needs.
Designing and decorating your massage room
First, consider how much you are willing to invest in designing and decorating your massage space. If designing your own space seems like a mammoth task, you could consider renting out a treatment room. Gone are the days when you had to get tied down to lengthy contracts and high membership fees just to use a therapy room for a few hours. Now you can book a treatment room on an hourly basis with no membership fee.
This blog post might help you make a decision on whether to rent a room or work from home. Once you have made the decision, you can then move on to the design/decor aspect of it.
The Entrance
Before the therapy session even begins, your clients' first point of experience with you will be the entrance to your space. Think about the feeling that your entrance evokes – you want it to induce feelings of relaxation, calm, tranquillity, and healing. The size of the entrance doesn't matter. What matters is that it should set the stage for a positive massage experience for your clients. Indoor plants, inviting lighting, soft soothing music can all help create this ambience.
The Room
Size: Your room should be large enough to accommodate a standard massage table (measuring 71cms x 185cms). Choose one that is both functional and comfortable. Make sure you have some space around the table to move around.
Seating: If the possible, create a seating area that you can use for one-on-one consulting. This can also double up as a place to keep your client's bag or other essentials.
Changing area: A small changing area with a curtain or any other is a must for any massage room.
Functional Storage: Have plenty of storage for your towels and other supplies. If you don't have space in your room for storage cabinet you can stock them in another room. The key thing to remember is that your massage room is kept clutter-free as visual clutter can impact your client's experience. Make sure to have a table or a cabinet where your client can keep their belongings like phone, keys, glasses etc.
Mirrors: Large mirrors, especially wall to wall ones can make all the difference in making a small room appear larger.
Colour
When it comes to colour "less is more". The instant your client walks through the door, the first thing they will notice is the visual tone of your room. When designing a treatment room, choose soft neutral colours as opposed to bold ones. When in doubt, choose shades of blue and green as it is known to have a calming effect. Earthy colours like whites, beige and grey have a similar relaxing effect.
Lighting
Natural light can be a strong tool in your arsenal but so is having the ability to darken the room which can bring about a different feel and a more relaxed tone. The key here is to understand your client's needs and adjust the setting accordingly. If you are a physio or a sports massage therapist, then brighter natural positive light might work well for your clients. More spa related treatment may be more effective in a space that can be made dimmer, for a more zen-like state.
Flooring
Wooden flooring, vinyl tiles or cushioned floor work better than hard surfaces like marbled tiles. If hard flooring is completely unavoidable, then you can soften the floor using rugs or carpets.
Decor
Invest in some striking but subtle decor to lift the mood of the space. Having small pieces can be a nice addition, however, the key thing to avoid is clutter. Having too many paintings on the wall can make the wall cluttered. Although plants are a great addition to your room, it can also be too much if you have too many. This applies to every decorative piece that you have. Another "less is more moment".
Keep these tips in mind when designing/choosing a treatment room and your clients will want to keep coming back to you.
Looking for a treatment room with no membership fee and that you can book by the hour? Get in touch with us!