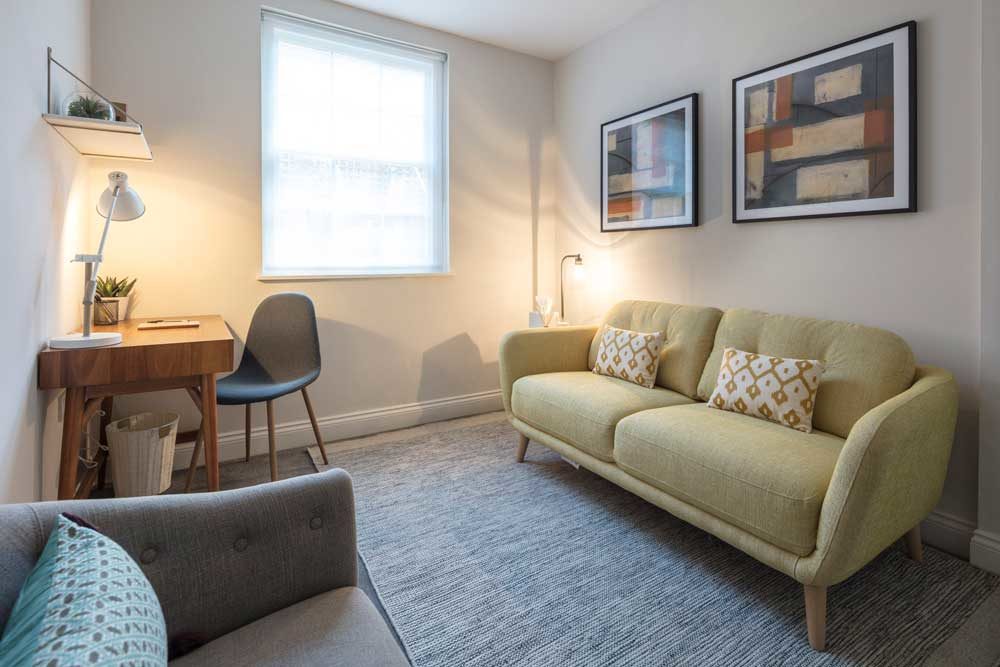 Rent A Therapy Room Or Work From Home?
17th Jul 2019
As a private practitioner finding a suitable space to work from can seem like a daunting task. Whether you are looking for a psychotherapy room, a massage room or a beauty room to rent, with so many options to choose from, how do you go about making the right decision?
Here are some questions that might be going through your mind…
Is there a membership fee?
Does the atmosphere in the room work for my therapy?
How long will it take me and my clients to get there?
It is flexible and convenient?
With so many things to consider, working from home could initially seem like the simplest solution. You are not bound by a contract; you can decorate your therapy room as you like and you will have the flexibility to take last minute bookings without having to think about room availability.
Running your private practice from home certainly has some great benefits, however, when it comes to building your brand and raising your profile, there are a few other things worth considering:
Is the space welcoming and inviting?
Will it make my clients feel safe and secure?
Does it make my business look professional – does it fit well with my brand?
First impressions matter!
You have only one chance to make a first impression and first impressions matter, especially if you are just starting out and building your practice. So take a moment and think about the experience your clients expect right from the moment they arrive at your door. You also want to think if you will be able to create an atmosphere that is both warm as well as professional. Can you ensure confidentiality and client privacy? Are there other family members, perhaps babies or pets, who could potentially disrupt your session?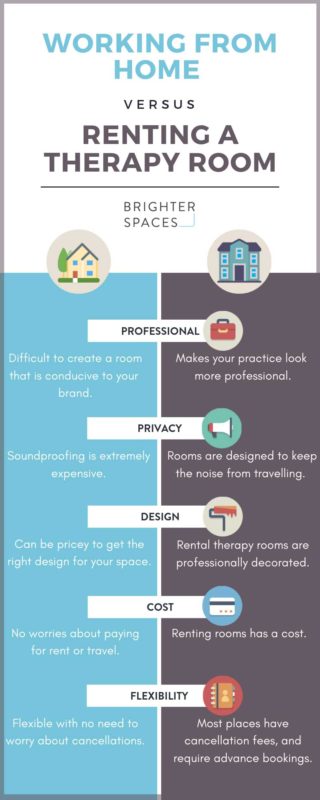 When you bear all of the above in mind, renting a therapy room might seem like an idea worth considering. Here's why:
Reception and waiting area: Many therapy rooms have a concierge service – they are your clients' first point of contact. They are there to make them feel welcomed and at ease. They make sure your rooms are well set up and ready for use even before you arrive. This allows you to focus on what you do best because they make sure to take care of the rest.
Soundproofing: It goes without saying that in therapy, client confidentiality and privacy is most important. But ensuring that the noise doesn't travel outside of the room is no easy task. Further, soundproofing your home could end up making a big dent in the wallet. Good news is that many therapy rooms to rent are designed keeping client confidentiality in mind. The rooms may be set up in a way to reduce soundwaves from travelling to other rooms – walls may be insulated, objects that are better at absorbing sounds may be strategically placed in different areas of the rooms. Some places also use white noise machines to drown out outside noise.
Design and decor: Creating a space that is professional but also warm and homely is no easy feat, not to mention expensive. Rental spaces are very often professionally designed and decorated to the highest standard.
Network: Having a network of other practitioners can present opportunities to collaborate and/or exchange referrals that could help grow your practice.
Tech: A quiet space with fast and reliable wifi connection means you have the peace of mind that your skype calls with your clients will be uninterrupted.
To sum up, providing a high standard of service in all areas, makes your practice look more professional and ensures your clients come back to you again and again.
So what stops practitioners from renting a room?
When looking for a therapy room to rent, the one thing that can put practitioners off is the commitment that comes with it. Many rental options require you to be tied to a contract for a set period of time, regardless of whether or not you are using the room. This doesn't give you much flexibility, especially if you are just starting out or looking to work on an ad hoc basis. The good news, however, is that now there are businesses like ours that offer rooms which can be booked by the hour, with no membership fee. You can book as and when you need. There is no commitment. Just beautiful spaces.
Getting outside of your comfort zone and booking a therapy room brings another, often unrecognised benefit. Whether you are a psychotherapist, a nutritionist or a life coach, working in therapy can often get lonely, especially when working from home. So many therapists crave interaction with other therapists and whilst there are networking events across all towns and cities, having the option of being part of a community of other therapists can help you at a personal as well as on a professional level. Not only does it allow you to exchange referrals but also makes you challenge your thoughts and learn from others. It also provides plenty of opportunities to collaborate. Importantly though, find somewhere you can make friends – a place you can call your home away from home.
If you are looking for a therapy room to rent but can't quite make up your mind, give us a call or email us.
Our lovely concierges would love to book you in for a tour to see any of our beautiful therapy rooms in the UK.